Moderna Booster Clinic, Jan 18 at the Civic Center, register HERE!
COVID-19 Vaccine: Safe, Effective, Free
The COVID-19 vaccines continue to be remarkably effective in reducing the risk of severe disease, hospitalization, and death. CDC recommends everyone ages 5 and older get a COVID-19 vaccine to help protect against COVID-19. The Pfizer vaccine is approved for individuals age 5 and older while Moderna and Johnson & Johnson vaccines are approved for ages 18 and up.
Vaccine Information
For information about the vaccine, safety, clinics, FAQs, and more:


Where Can I Make an Appointment?

Use the online COVID-19 Vaccine Finder.

Call your healthcare provider.

For appointments at an Onondaga County clinic, go HERE.
For appointments at the NYS clinics including the Fairgrounds, go HERE or call the New York State Vaccination Hotline at 1.833.NYS.4VAX (1.833.697.4829).
For an appointment for your 5- to 11-year-old,  call your child's doctor, their school district, local pharmacies, or go HERE.
Onondaga County Clinic Details:
See our list of upcoming clinics HERE.

Complete the screening and consent form.
Print and complete the form in the confirmation email you receive once your appointment is made.
Provide identification/proof of age upon arrival at the clinic.


Please note that children under the age of 18 must be accompanied by a parent/guardian. 

Bring your insurance card with you to the clinic. You will be asked for insurance information BUT the vaccine is free and there will never be a charge to you, and you do not need to have insurance to get the vaccine.
Bring your vaccine card with you if you have received any previous doses of the COVID-19 vaccine.
After receiving your vaccine, please register for v-safe, a smartphone-based tool that provides personalized health check-ins so you can quickly tell CDC if you have any side effects or report side effects through the CDC Vaccine Adverse Event Reporting System (VAERS).

Booster Doses
A COVID-19 booster shot is an additional dose of vaccine to help maintain level of immunity for longer. Click on the image to see the full-size version: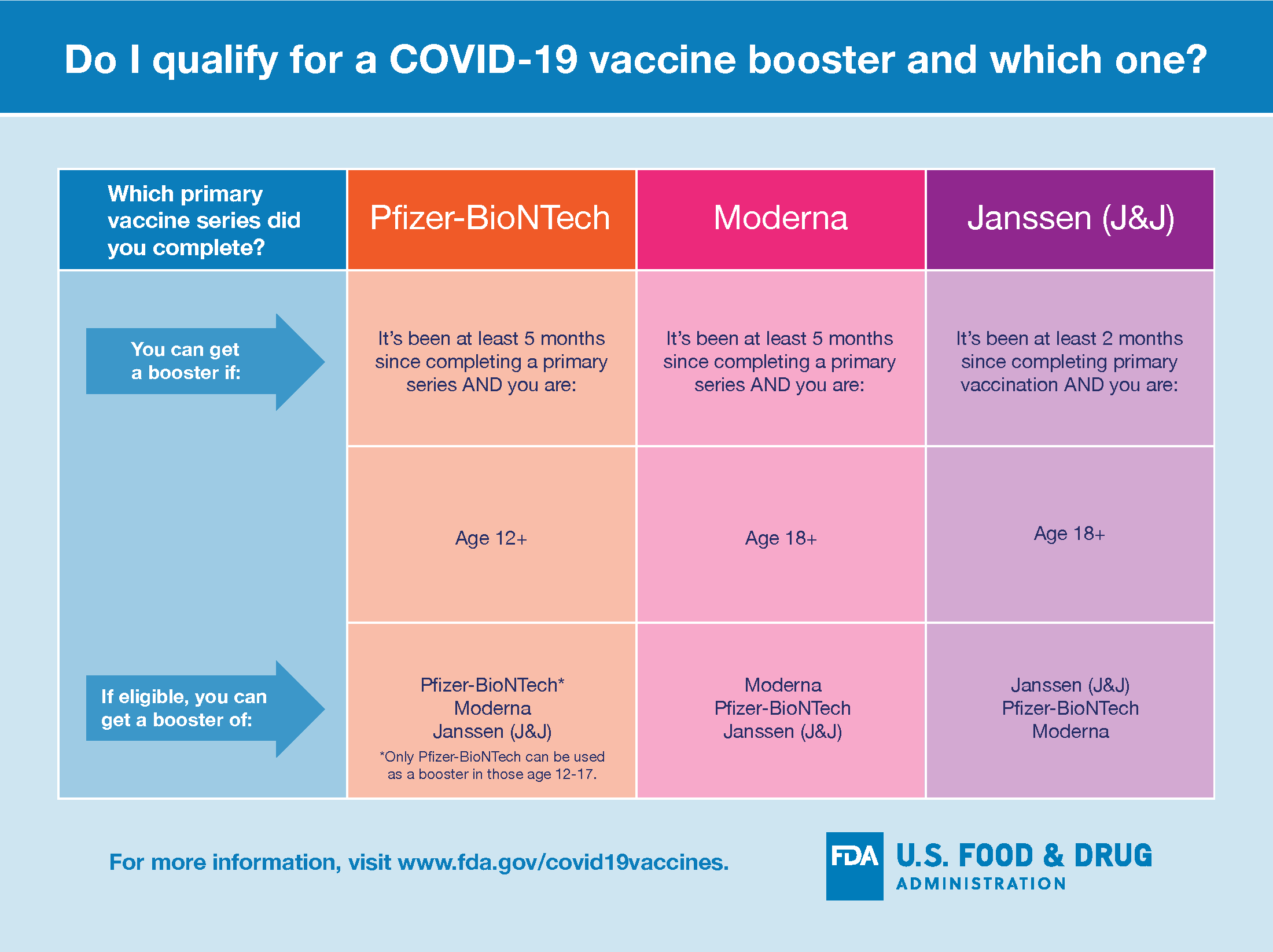 Anyone 12+ who received two doses of Pfizer vaccine is eligible for a booster dose 5 months after their second dose.

Anyone 18+ who received two doses of Moderna vaccine is eligible for a booster dose 5 months after their second dose.

Anyone 18+ who received a single dose of Johnson & Johnson vaccine is eligible for a booster dose 2 months after their single dose.
CDC advises people to get the same booster as their initial vaccine, but allows people to "mix and match" if they have a different preference. Learn more: https://www.cdc.gov/coronavirus/2019-ncov/vaccines/booster-shot.html
Vaccines for Ages 5-11
Parents who wish to have their 5- to 11-year-old vaccinated should call their child's primary care provider, their school district, or local pharmacies for information about vaccine availability for that age group.
Additional Dose for Some Immunocompromised People
Some moderately or severely immunocompromised people ages 5+ should get a third dose of vaccine to be considered fully vaccinated. If you are eligible, you should get this additional dose 28 days after your second dose of Pfizer or Moderna vaccine and before you get a booster shot. Consult with your healthcare provider for further guidance.
Learn More
• Vaccine Q&A Flyer ENGLISH | ARABIC | SPANISH | NEPALESE | SOMALI | SWAHILI
• New York State COVID-19 Vaccine Program
• CDC COVID-19 Vaccine FAQ
• Pfizer Vaccine
• Moderna Vaccine
• Janssen/Johnson & Johnson Vaccine