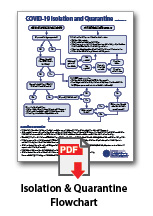 NEW! Updated isolation and quarantine guidance document and flowchart now available.
Self-Attestation
The recent rise in cases across the state and in Onondaga County has caused a delay in the case investigation process. If you test positive, immediately isolate yourself and notify your close contacts and your workplace or school. When you have met the requirements for release from isolation or quarantine, you may complete a self-attestation form as legal documentation for your isolation or quarantine and for New York Paid Family Leave COVID-19 claims. These forms are for your own use, DO NOT submit them to the Health Department. Access the forms and learn more here.
Protect Yourself and Others
COVID-19 can spread quickly; even vaccinated people can spread it.  If you are vaccinated, you're less likely to catch it and much less likely to be hospitalized. Being vaccinated and boosted is your best line of defense against severe illness. We need to protect each other, especially those who are immunocompromised or cannot get the vaccine:
Get vaccinated, and as soon as you're eligible, get a booster!
Avoid close contact with people who are sick and if you are sick, stay home and get tested.

Wash your hands often and thoroughly with soap and water for at least 20 seconds.

Avoid touching your eyes, nose, and mouth.

Wear a face mask in indoor public settings and crowds.

Cover your cough or sneeze with a tissue, then throw the tissue in the trash.

Clean and disinfect frequently touched objects and surfaces.
Vaccine: Safe, Effective, Free
COVID-19 is a serious disease that can affect our entire body and result in serious health consequences, including death. The COVID-19 vaccine is safe, effective, free, and the best way to prevent these outcomes and regain a level of normalcy in our lives.
CDC recommends everyone ages 5 and older get a COVID-19 vaccine to help protect against COVID-19. Everyone 12 years and older, including immunocompromised people, should also get a booster shot. If you are eligible for a third dose, you should get this dose first before you get a booster shot.
Testing
Anyone can get tested for COVID-19, even if they have no symptoms. Testing information is available here. If you have taken a COVID test at home and you tested positive, you can submit your results HERE.
Watch for Symptoms
If you develop symptoms such as fever, cough, and/or difficulty breathing, stay home and call your doctor. If you do not have a doctor and have questions, symptoms, or may have been exposed to someone who has tested positive for COVID-19, call Upstate University Hospital's Triage Line at 315.464.3979. If you are older, have severe underlying medical conditions, or are immunocompromised, call your doctor early, even if your illness is mild.
Look for emergency warning signs* for COVID-19. If someone is showing any of these signs, seek emergency medical care immediately: trouble breathing, persistent pain or pressure in the chest, new confusion, inability to wake or stay awake, bluish lips or face, call 911 and notify the operator that you are seeking care for someone who has or may have COVID-19.
*This list is not all possible symptoms. Please call your medical provider for any other symptoms that are severe or concerning to you.

COVID Alert NY
Now you can use your phone to help stop the spread of COVID-19 and you can receive exposure alert notifications without compromising your privacy or personal information. COVID Alert NY is a voluntary, anonymous, exposure-notification smartphone app. You will get an alert if you were in close contact with someone who tests positive for COVID-19. Knowing about a potential exposure allows you to self-quarantine immediately, get tested, and reduce the potential exposure risk to your family, friends, neighbors, co-workers, and others. Download the app today.