Protect Yourself and Others
COVID-19 can spread quickly; even vaccinated people can spread it. If you are vaccinated, you're less likely to catch it and much less likely to be hospitalized. Being vaccinated and boosted is your best line of defense against severe illness. Find a vaccine near you.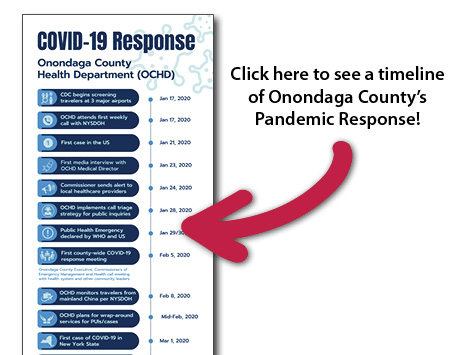 While the CDC has updated its COVID-19 guidelines, many of the recommendations remain the same and are rooted in the most effective strategies to protect ourselves against COVID-19: get vaccinated and stay up-to-date with boosters; test if you have symptoms or have been exposed to COVID-19; isolate if you test positive; and wear a mask if you are in an area with a high COVID-19 Community Level. The CDC also continues to recommend that people take additional precautions if they are at higher risk for severe COVID-19.
Treatment Options
Treatment must be started early to work, so don't delay. If you are an older adult or at high risk of getting very sick from COVID-19, test as soon as you have symptoms; if you test positive, contact your healthcare provider right away for treatment options that may be available to you, such as antivirals or monoclonal antibody therapy. 
If you test positive for COVID-19 but don't have a healthcare provider, you can call 888-TREAT-NY (888-873-2869) or submit an online form to be evaluated for treatment. All New Yorkers are eligible regardless of income or health insurance coverage. Learn more here.
If you are immunocompromised or are unable to get a COVID vaccine due to a history of severe adverse reaction, you may be eligible for a medication called Evusheld that can reduce your risk of getting COVID-19. Talk to your healthcare provider.
Watch for Symptoms
If you develop symptoms such as fever, cough, and/or difficulty breathing, stay home, get tested, and call your doctor. If you do not have a doctor and have questions, symptoms, or may have been exposed to someone who has tested positive for COVID-19, call Upstate University Hospital's Triage Line at 315.464.3979. If you are older, have severe underlying medical conditions, or are immunocompromised, call your doctor early even if your illness is mild, as treatment may be available.
Look for emergency warning signs* for COVID-19. If someone is showing any of these signs: trouble breathing, persistent pain or pressure in the chest, new confusion, inability to wake or stay awake, bluish lips or face, call 911 immediately and notify the operator that you are seeking care for someone who has or may have COVID-19.
*This list is not all possible symptoms. Please call your medical provider for any other symptoms that are severe or concerning to you.